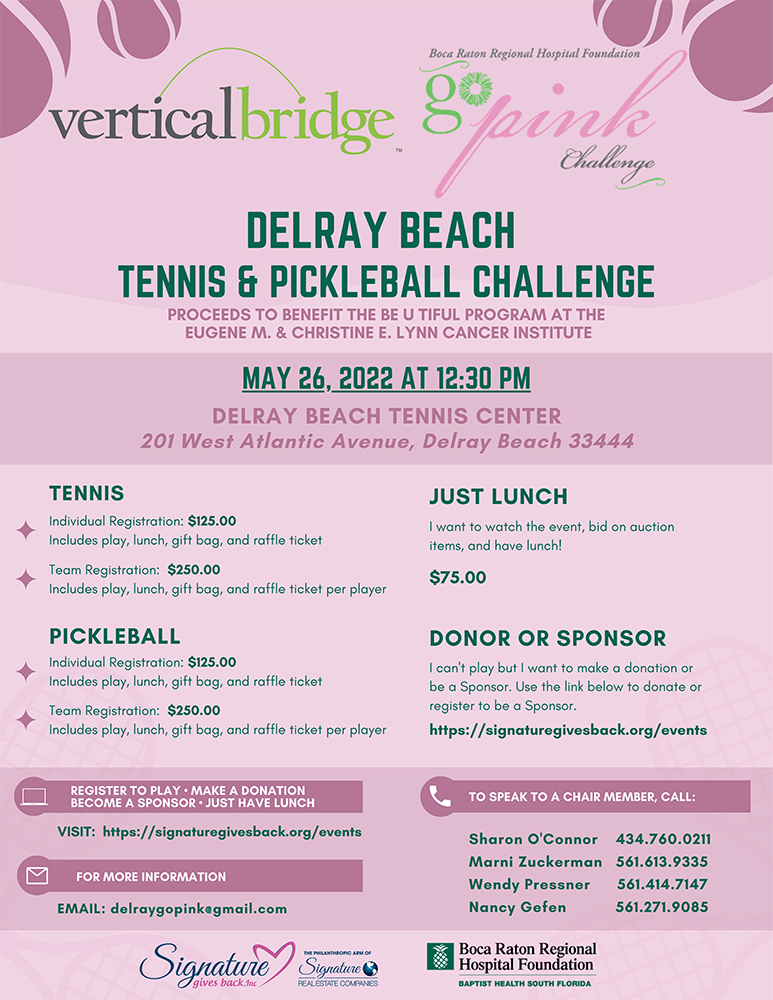 Vertical Bridge Go Pink Delray Beach Tennis & Pickleball Challenge
We're excited to announce our first Vertical Bridge Go Pink Delray Beach Tennis & Pickleball Challenge to be held at the Delray Tennis Center on the afternoon of May 26, 2022! We have so much fun playing tennis and pickleball together so now it's time to support our community by playing AND raising money at the same time.
Proceeds will benefit the Be U Tiful Program at the Eugene M. & Christine E. Lynn Cancer Institute at Boca Raton Regional Hospital/Baptist Health South Florida. Be U Tiful is dedicated to enhancing a cancer patient's mood, well-being and overall outlook on life during cancer treatments. Just a few of the free services provided by their professional cosmetologist are: Coping with Skin Changes; Makeup Techniques; Wig Fittings and Choosing the Right Look; Scarf Styles/Head Coverings; and Scar Camouflage.
The Vertical Bridge Go Pink Challenge will begin with a luncheon at 12:30 PM followed by fun round robin tournaments. There will be raffles, gift bags, fun prizes, silent auction items, and more.
You can use this website to:
Register to play tennis or pickleball. Space is limited so we recommend you register TODAY!

Make a donation

Become one of our valued Sponsors

Just enjoy lunch
For more information, email delraygopink@gmail.com or call Sharon O'Connor at 434-760-0211
We look forward to seeing many of you on May 26th, playing tennis or pickleball and most importantly, helping to raise funds for an amazing cause!